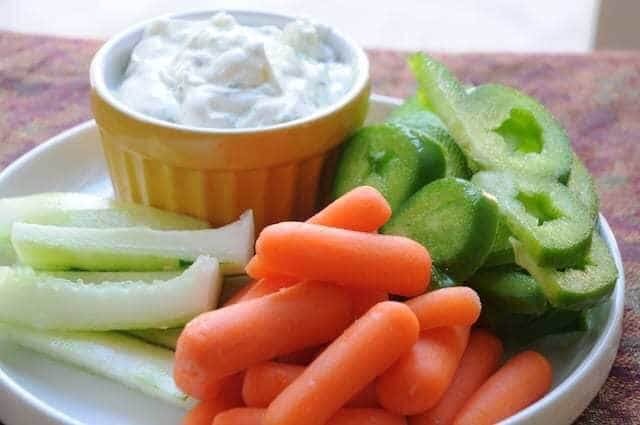 Vegetables with Cucumber Yogurt Dill Dip Tapas
Dip: 1 cucumber, peeled, seeded, diced 500ml plain 0% fat Greek yogurt 2 tsp fresh chopped dill (or use 1 tsp dried dill)
Ingredients
Dip:
1 cucumber, peeled, seeded, diced
500ml plain 0% fat Greek yogurt
2 tsp fresh chopped dill (or use 1 tsp dried dill)
1 clove crushed garlic (or a dash of garlic powder)
juice of half of a lemon
Allergens: Milk
Method
Dippers: 300g baby carrots 2 bell peppers cut into rings 300g cucumber sticks
Peel the cucumber. Cut it half and remove the seeds. Dice it fine or chop in food processor. Add the yogurt, dill, garlic and lemon. Mix well.
Place the dip in a small serving bowl. Surround with cucumber sticks, baby carrots and bell pepper rings.