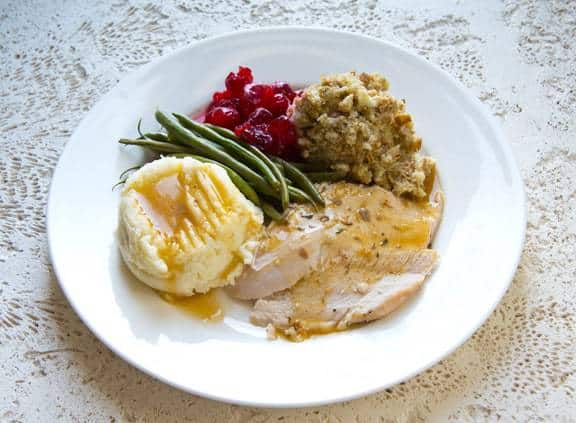 Roasted Turkey Breast
Roasting brings out the full flavors of this tasty turkey breast.
Ingredients
1 turkey breast (5 to 5-1/2 lb)
1 medium white onion
2 stalks celery, cut in half
vegetable cooking spray
1-1/2 Tbsp lemon-pepper seasoning
1-1/2 tsp onion powder
1-1/2 tsp garlic powder
1-1/2 tsp poultry seasoning
1/2 tsp paprika
1 browning bag
Method
Remove and discard the skin from the turkey breast.
Rinse the breast and pat it dry.
Place the onion and celery into the breast cavity.
Spray it all over with cooking spray.
Combine the lemon-pepper seasoning, onion powder, garlic powder, poultry seasoning and paprika.
Sprinkle this mixture over the breast.
Place it in a browning bag that has been prepared according to the package directions.
Place the bag in a shallow baking pan and bake at 325 °F for 1 hour.
Cut a slit in the top of the bag and bake until a meat thermometer registers 170 °F, about 1 hour.
Transfer the breast to a serving platter and let it stand for 15 minutes before carving it into thin slices.
Use the pan drippings to make a lowfat gravy.