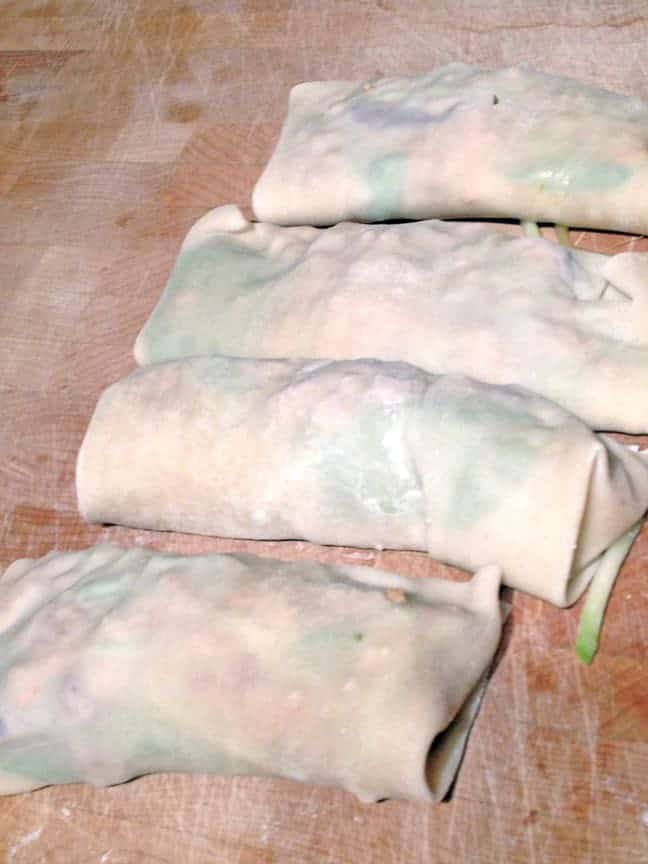 Lowfat Egg Rolls
Most egg rolls use pork but we are using lean ground chicken.
Ingredients
1 tsp canola oil
1 tsp garlic paste
1 tsp grated ginger
100g lean ground chicken
1 tsp water
70g shredded cabbage
100g spinach leaves, rinsed and dried
1 tsp light soy sauce
1 tsp sesame oil
8 spring roll wrappers
spray cooking oil
Allergens: Milk, Egg, Wheat, Soy
Method
Heat canola oil in nonstick pan and lightly saute the garlic and ginger.
Add the chicken, stir well, lower the heat and cover with a lid. In about a minute add a tablespoon of water and stir well. Cover and cook until chicken is done. Pour the chicken on a dinner dish and chill for 6 minutes in the freezer.
Mix the chicken, slaw, spinach soy sauce and sesame oil together.
Roll the filling in the spring roll wrappers, securing the edges to the inside half way, and glue the edges together with water. Press them flat.
Spray a nonstick pan with canola oil and heat over medium heat. Place the rolls on one side and allow to brown. Spray their tops with canola oil spray. Flip them over and bake in a preheated 425 degree oven for 12 minutes or until golden.
To serve, cut them in half and arrange on the plate with fresh sliced cabbage.