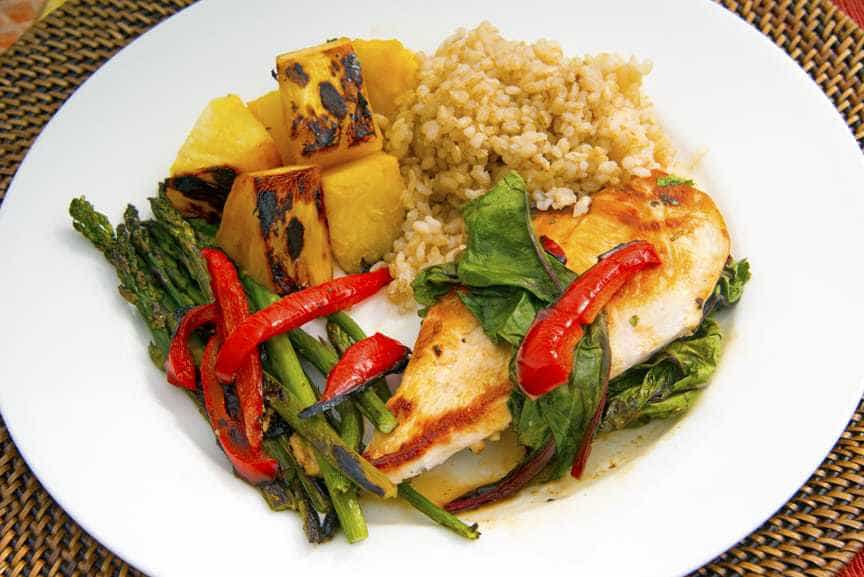 Grilled Chicken and Kale
Spray oil 2 chicken breasts, sliced in half horizontally 150g kale 1 bunch asparagus 1/2 red pepper, cored, seeded, and cut into strips
Ingredients
Spray oil
2 chicken breasts, sliced in half horizontally
150g kale
1 bunch asparagus
1/2 red pepper, cored, seeded, and cut into strips
400g pineapple chunks
dash of Italian Seasoning and paprika
400g cooked brown rice
Method
Heat the grill to 400 degrees Fahrenheit.
Cut a large piece of foil and set it on a tray.
Spray it lightly with oil.
Place the chicken breasts on the oiled foil.
Arrange the pineapple, peppers, and asparagus around the chicken.
Place the kale on top of the chicken.
Place piled foil on the grill.
Grill everything together for 20 minutes until the chicken is done.
It is a good idea to turn everything over halfway through cooking.
The chicken is done when it is firm in the center.
To serve, divide the kale evenly among four plates, topping with a chicken breast on each plate.
Add 100g rice next to each chicken breast.
Divide the remaining fruit and vegetables (peppers, asparagus, and pineapple) into four equal portions and use them to fill the other half of each of the four plates.
Serve hot.