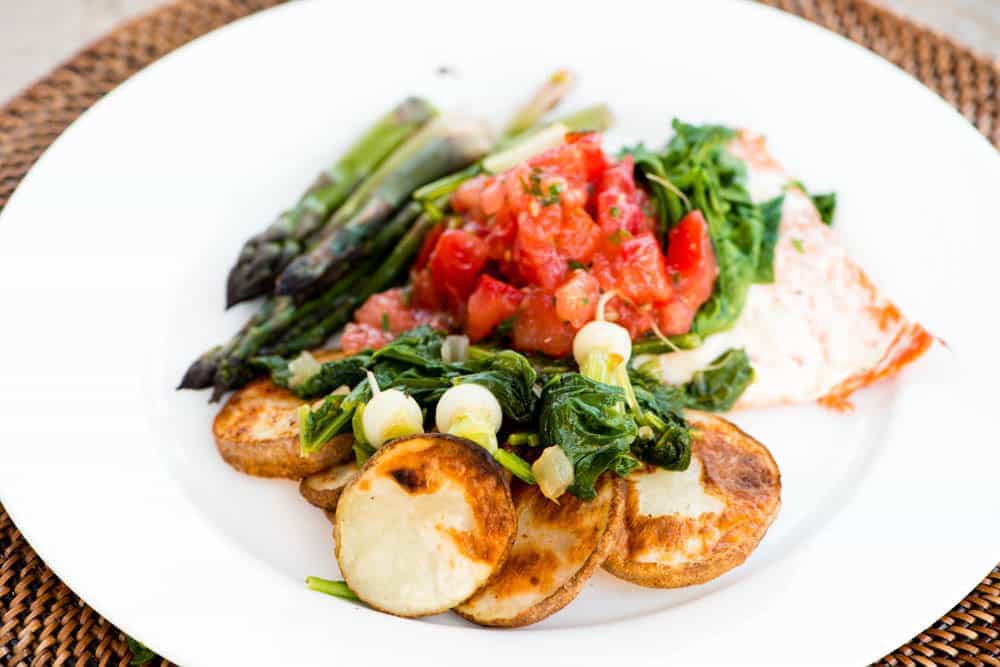 Farmers Market On The Grill
2 chicken breasts, sliced in half horizontally 30g spinach leaves 3 potatoes, rinsed and sliced in 1/4″ disks 1 bunch asparagus paprika
Ingredients
2 chicken breasts, sliced in half horizontally
30g spinach leaves
3 potatoes, rinsed and sliced in 1/4" disks
1 bunch asparagus
paprika
black pepper
garlic pepper
cooking oil spray
Method
Bruschetta: 2 tomatoes, seeded and diced 2 tablespoons garden chives 1 tsp olive oil Black pepper to taste Garlic powder to taste 1 tablespoon fresh chopped basil
aluminum foil
1. Heat grill to 350 degrees F.
2. Tear a large piece of foil and place on a cookie tray. Spray with cooking oil spray.
3. Line the chicken breasts, potato slices, and asparagus on the foil in a single layer. Top with seasonings.
4. Place on the grill. Top the chicken with the spinach. 5. Cook for 15 minutes and turn everything over.
6. Grill for 5 more minutes until chicken is done and remove from grill.Serve hot.
7. Meanwhile, while items are grilling, make the bruschetta by tossing all ingredients together in a mixing bowl. Place on top of chicken breasts when done.