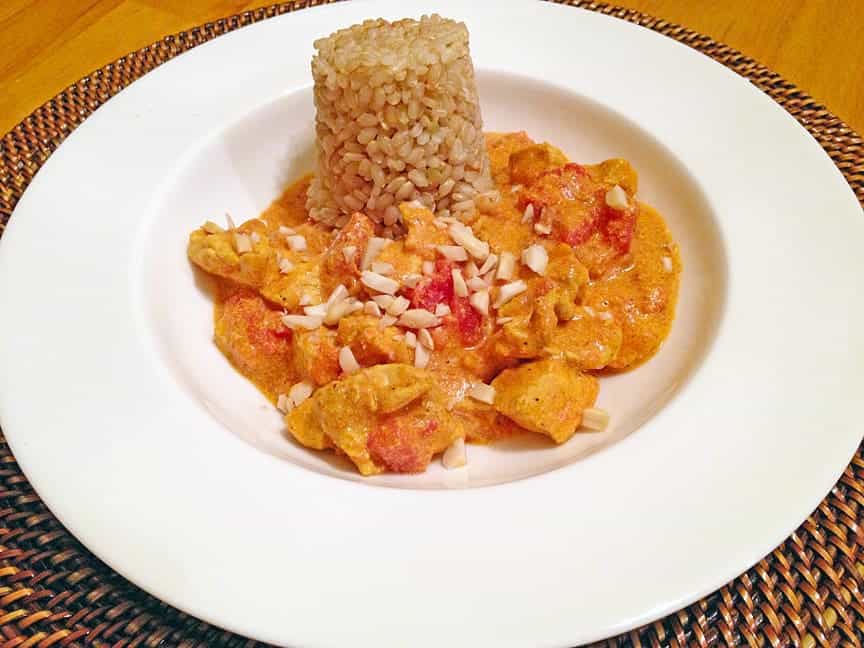 Curry Cashew Chicken
A delicious Indian dish that looks very elegant but it goes together quick! The seasonings give it a great flavor.
Ingredients
3 cups prepared brown rice (2 cups water, 1 cup rice)
1 tablespoon canola oil
1 onion, chopped fine
2 tsp fresh garlic paste or finely chopped fresh garlic
2 tsp grated fresh ginger
2 tsp curry powder
1 tsp garam masala
1 can no-sodium-added diced tomatoes with juice
2 chicken breasts, skinless, cut in small cubes
1/3 cup plain yogurt, fat-free
2 tablespoons chopped cashews, toasted
Allergens: Milk, Peanut, Tree Nut
Method
Cook brown rice according to package directions.
Heat oil in a large nonstick wok or Dutch Oven over medium heat. Add the onion, garlic and ginger and cover with a lid. Sweat the veggies for several minutes over low heat. Stir and continue sweating. Add the curry powder and cook briefly. Add the tomatoes, garam masala spice mix and chicken and cover and cook until the chicken is done. Remove from heat. Add the yogurt and stir well.
Serve the chicken over the rice with the toasted cashew nuts on top.