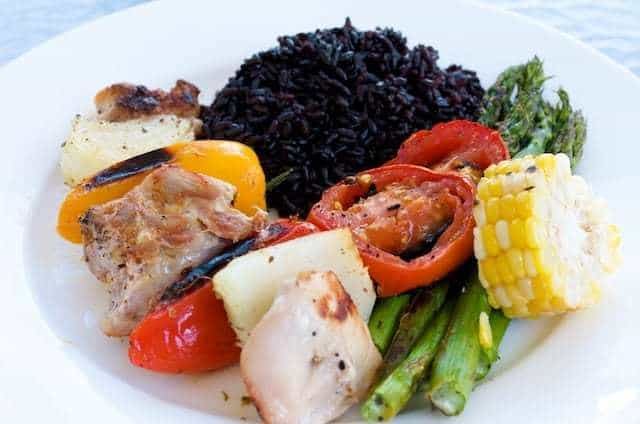 Chicken Fajita Skewers
This dish is an excellent picnic barbecue dish or a great BBQ for entertaining guests. Another option for fajitas, is to include the skewers and tortillas, salsa, beans and rice for a more Mexican themed dinner.
Kebabs: 2 chicken breasts, cut into large cubes 1 sweet onion, peeled and cubed 8 mini peppers (cored and seeded) or cubed pieces of cored, seeded, sweet peppers 1 tablespoon olive oil Fresh lemon or lime juice Seasoning: oregano, black pepper, garlic powder, cumin, chilli powder 4 long bamboo skewers, soaked overnight
Ingredients
2 corn on the cob
2 tomatoes
1 bunch of asparagus
Method
Thread chicken, onion cubes, and peppers onto the bamboo skewers.
Place the kebabs on foil and drape with oil, lime/lemon, and seasonings to taste.
While the skewers are marinating, get these veggies ready for grilling:
Corn; Peel the husk back far enough to remove the silk. Place the husk back over the corn and dampen with a little water. Brush with olive oil as it cooks.
Asparagus; Place asparagus on foil with a little olive oil, then transfer foil to grill and cook until crisp tender. Season with garlic powder, black pepper, and a little hot pepper sauce.
Tomatoes; Place tomatoes on foil and sprinkle with a little olive oil. Season with dried Italian seasoning, garlic powder, and black pepper, then place the whole packet on the grill.
Heat the grill to 350-400 degrees F then place the kebabs on the foil on the grill along with the rest of the veggies. Cook until the chicken is almost done, then flip. Take the kebabs off the grill when the chicken is firm and no longer pink in the middle. Cook the corn, asparagus and tomatoes until done. They are usually all ready at the same time.
Make the rice; Make a batch of brown or black forbidden rice according to package directions. A rice cooker makes this process very easy. Plus, if you start the rice along with the grill, everything should be done at the same time.
Plate everything together (this recipe is for 4 portions) and serve.