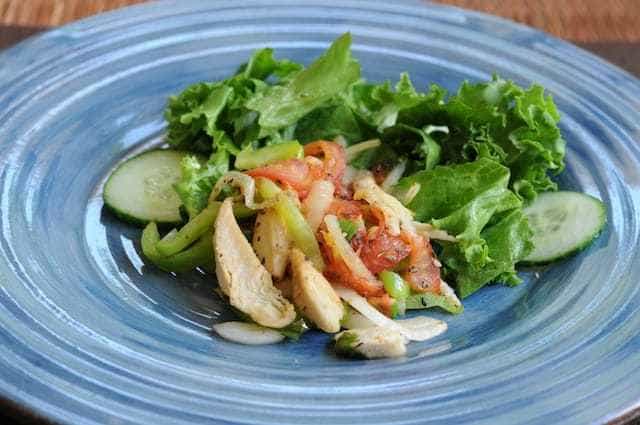 Chicken Fajita Salad
This recipe is chock-full of nutrients, fiber, and flavor! The fajita spices and ingredients add a fun twist to salad.
Ingredients
1 tsp canola oil
1/2 cup sliced onion
1 sliced mild chili pepper
1 cup sliced bell pepper
8 ounces raw chicken tenders, cut into thick strips
1 tsp granulated garlic
1 tsp chili powder
1 tsp dried oregano leaves
6 cups ready-to-serve romaine lettuce, chopped
1 cup sliced fresh tomatoes
1/4 cup green onions, sliced
1 cup sliced cucumbers
1 tablespoon oil
3 tablespoons flavored vinegar
Method
Heat a large nonstick skillet over medium-high heat; saute the onions and peppers in the oil until golden, about 3 minutes. Add the chicken tenders and the seasonings; continue cooking until the chicken is done, about 8 minutes, stirring occasionally. Place the chicken on a serving platter.
Place the lettuce and fresh vegetables in a large salad bowl. Serve items family style with oil and vinegar on the side. Optional accompaniments: baked blue corn chips, avocado and cooked brown rice.