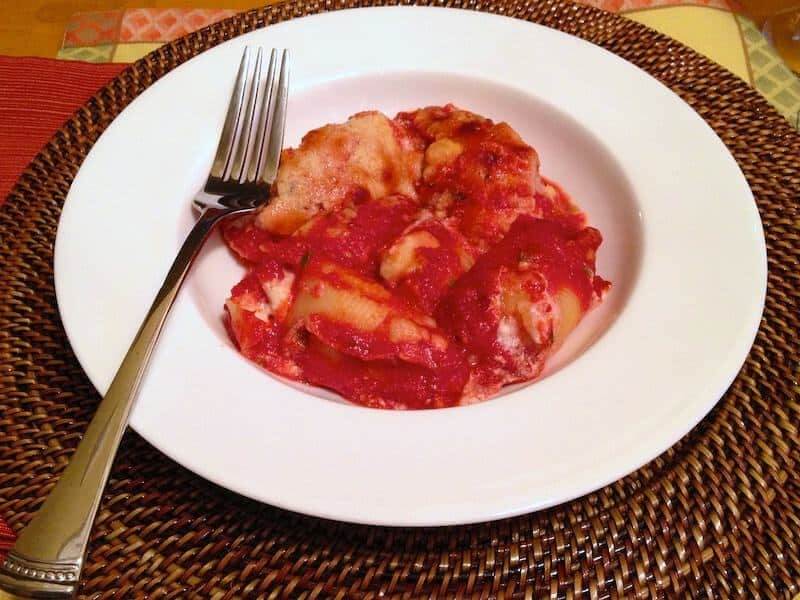 Baked Shells
A delightful baked pasta dish that is easy to make but looks fancy when served.
Ingredients
1 box (8 ounces) medium shells
1 pint lowfat ricotta
2 teaspoons olive oil
1 tablespoon crushed garlic
1 tablespoon fresh chopped basil
1 can (20 ounces) no-added-salt crushed tomatoes
2 tablespoons grated Parmesan cheese
Allergens: Milk, Wheat
Method
Cook the shells in boiling water according to package instructions. Meanwhile make the sauce.
Saute the garlic in a large nonstick pan with the olive oil until nutty, about a minute. Add the basil and crushed tomatoes; bring to a boil; then lower to a simmer.
When the shells are al dente (soft but with a bite in the center) rinse them in a colander with cold water. Scoop the ricotta into the shells.
Pour 1/2 the sauce into a large rectangular baking pan. Set the shells in the sauce. Top with the remainder of the sauce. Sprinkle with Parmesan cheese.
Bake for 20 minutes at 425 F or until the sauce boils and the cheese is melted and golden brown.