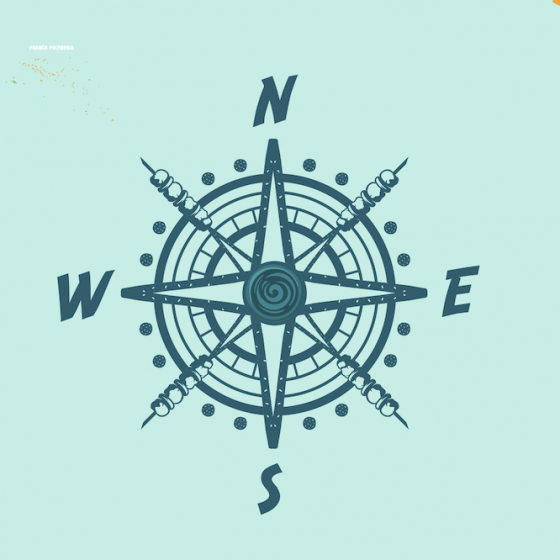 From the icy terrains of Nordic countries to the African deserts, the countries of the world are obviously vastly different. As well as climate and customs, this also applies to the locals' eating habits. We decided to look at which countries consume the most calories, carbs, salt, sugar, fat and protein based on their national dishes. The maps below show the results.
Scroll down for the full data on national dishes and their nutritional stats. 
Which countries consume the most calories? 
As you can see, the worst countries for calorie counting are Libya, Belgium, Qatar, Kuwait, Kyrgyzstan, Papua New Guinea, all of which have a national dish which averages at 1012-1425 kcal. The highest is Kyrgyzstan with total calories of 1425, this is in their national dish Laghman, which is pulled noodles, meat and vegetables.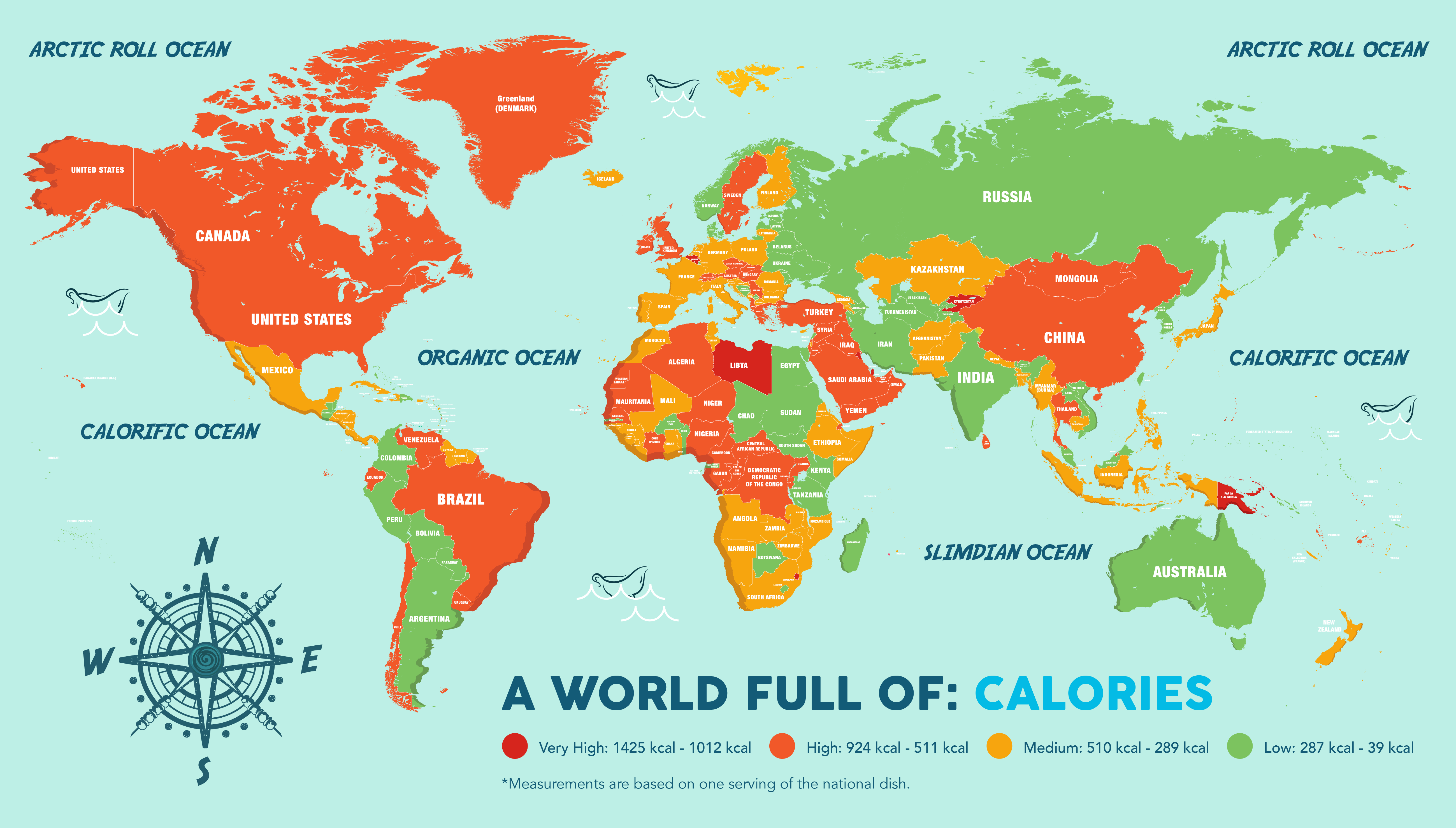 Which countries consume the most carbs?
The national dishes with the highest carbs belong to Mauritania and Senegal, as well as Libya, Kuwait and Kyrgyzstan. The country that consumes the highest number of carbs is Libya. Their national dish, which is called Bazeen, consists of 185.42 grams of carbs. This is unleavened bread, prepared with barely, water and salt.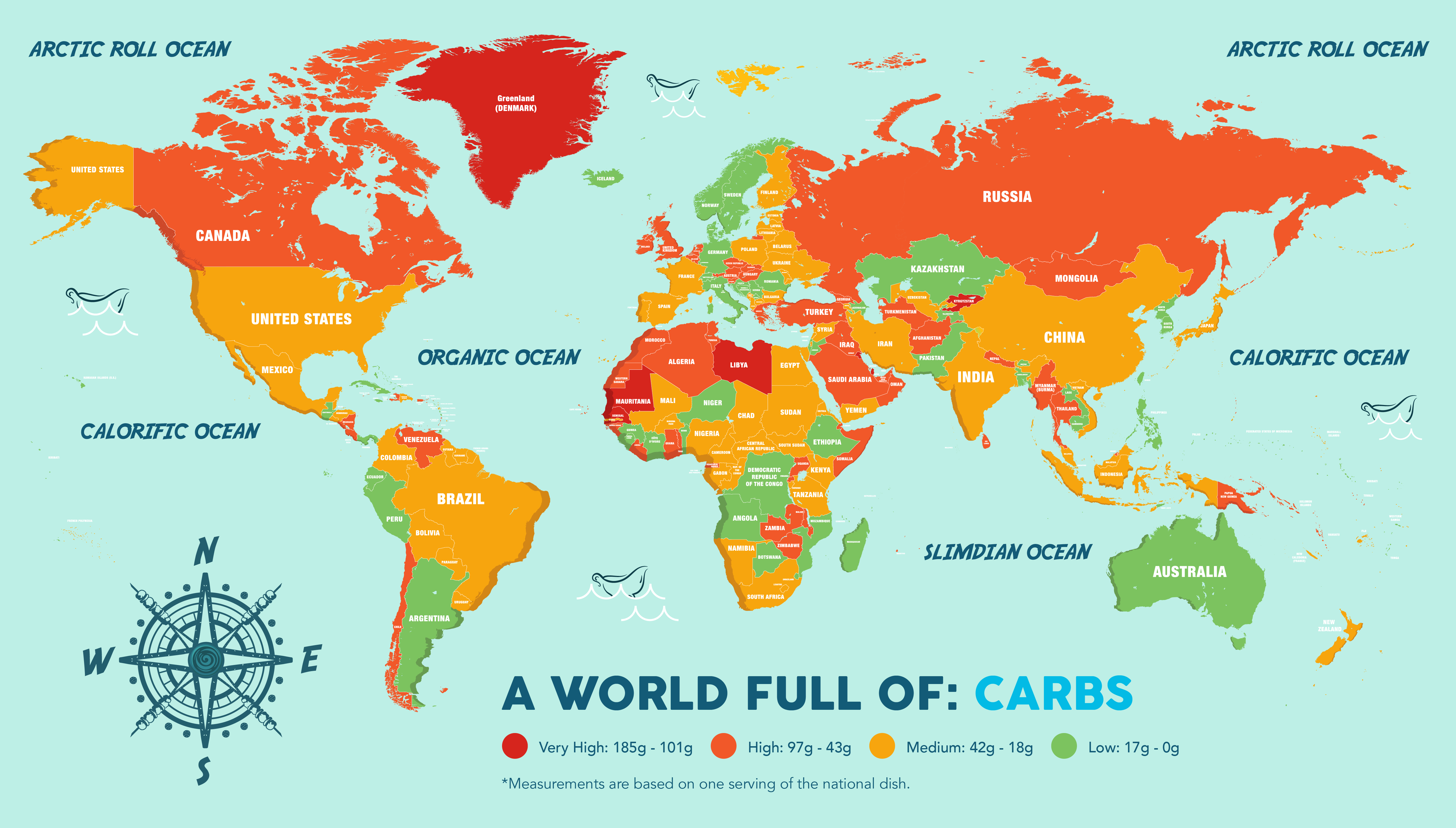 Which countries consume the most salt?
The saltiest countries are Libya, Switzerland and the Philippines. Again, Libya's Bazeen is the worst culprit here, as it contains 8.56 grams of salt. This is closely followed by Jamaica's Ackee and Saltfish, which contains 6.19 grams of salt.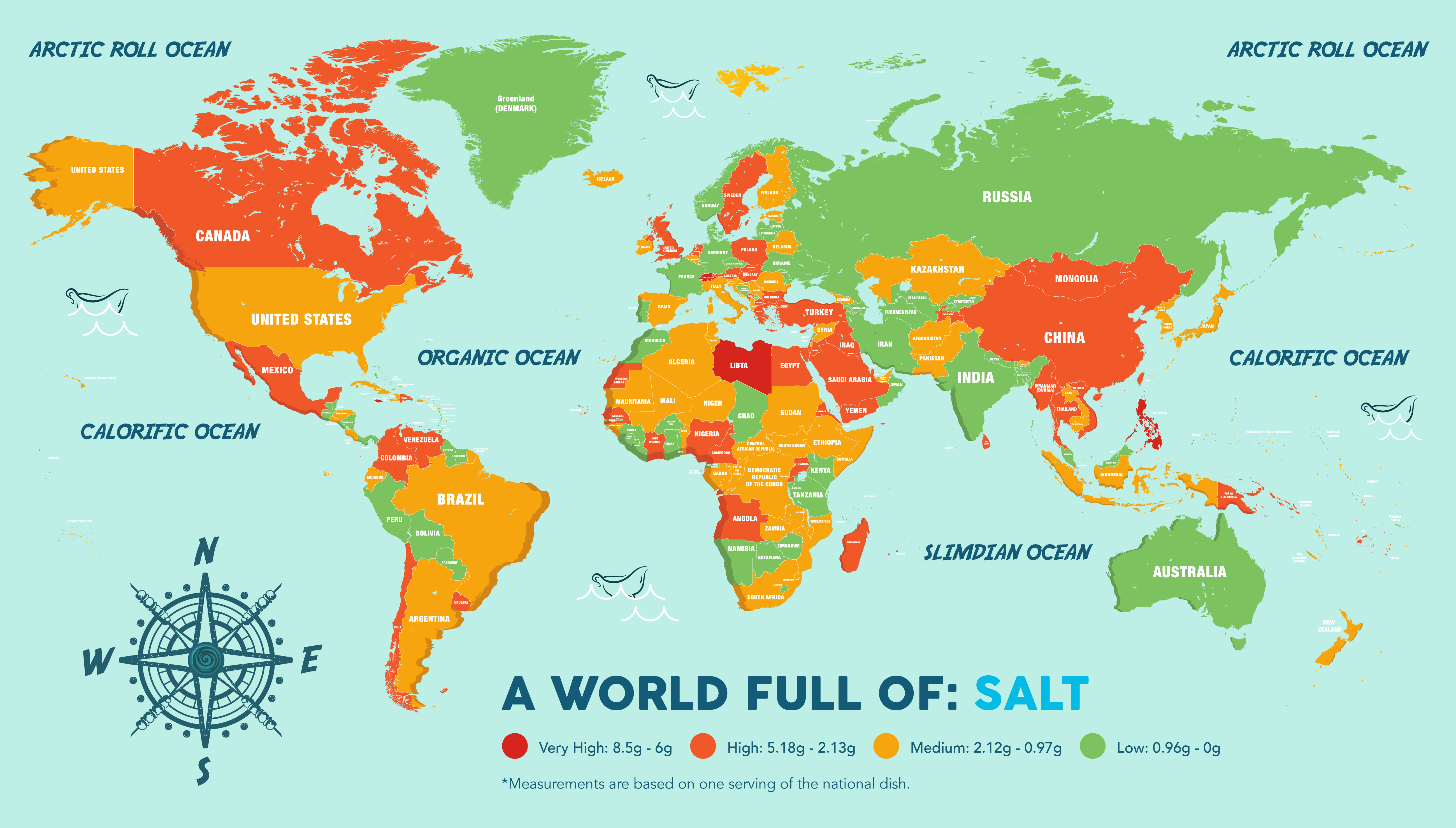 Which countries consume the most sugar?
In terms of sugars, the countries which consume the highest numbers are Rwanda, Uganda, Saint Lucia, the Marshall Islands, Morocco, Greenland and China. The most sugary dish is Rwanda's national dish, which is called Matoke. This consists of mashed green bananas, which can be served alone or with a stew.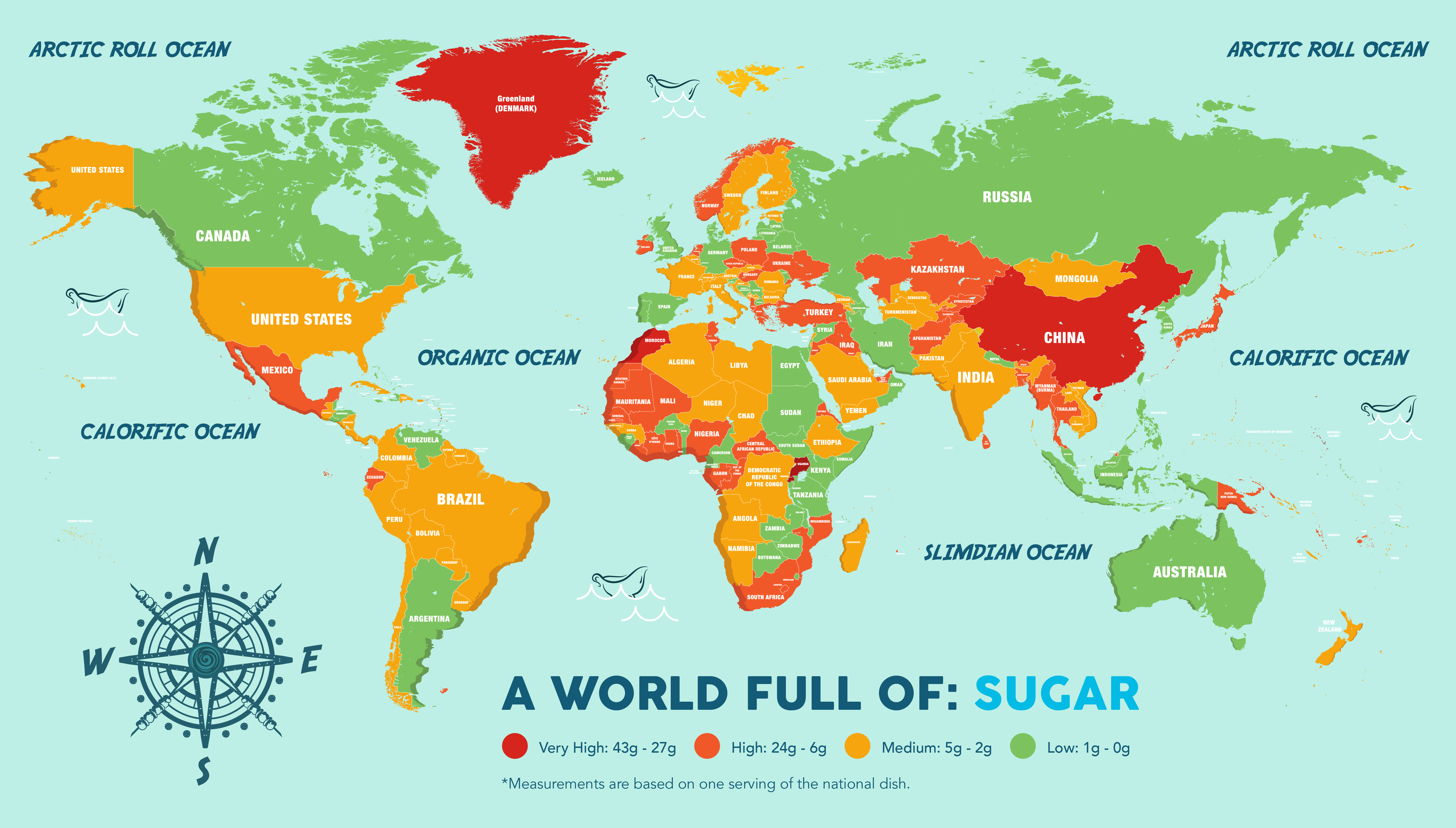 Which countries consume the most fat?
There seem to be more countries when it comes to high levels of fats than any other category. The countries in the red zone with high fats include; Papua New Guinea, Belgium, Sweden, Republic of the Congo, Serbia, Vanuatu, Canada, Albania, Rwanda, Uganda, Ireland, Northern Ireland, Ivory Coast, Bahrain, Kyrgyzstan and Democratic Republic of the Congo. The highest is Papua New Guinea, whose national dish Mumu has 88 grams of fat. This dish includes pork and roasted vegetables.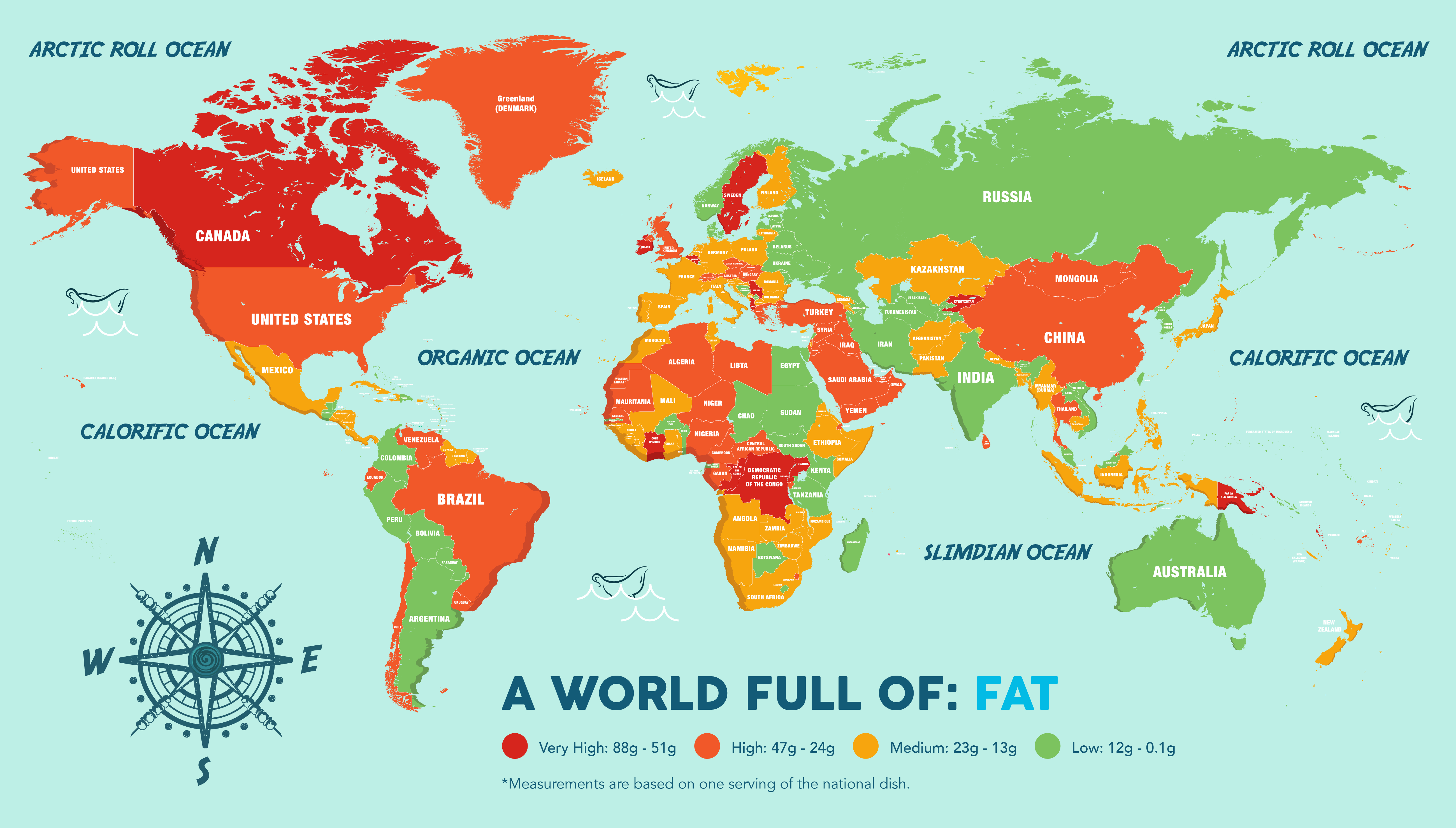 Which countries consume the most protein?
Finally, the countries with the highest protein levels include Ecuador, Singapore, Saint Lucia and Kyrgyzstan. The highest dish is Singapore's Chilli Crab, which, as the name suggests, involves crab in a chilli paste, offering 85 grams of protein.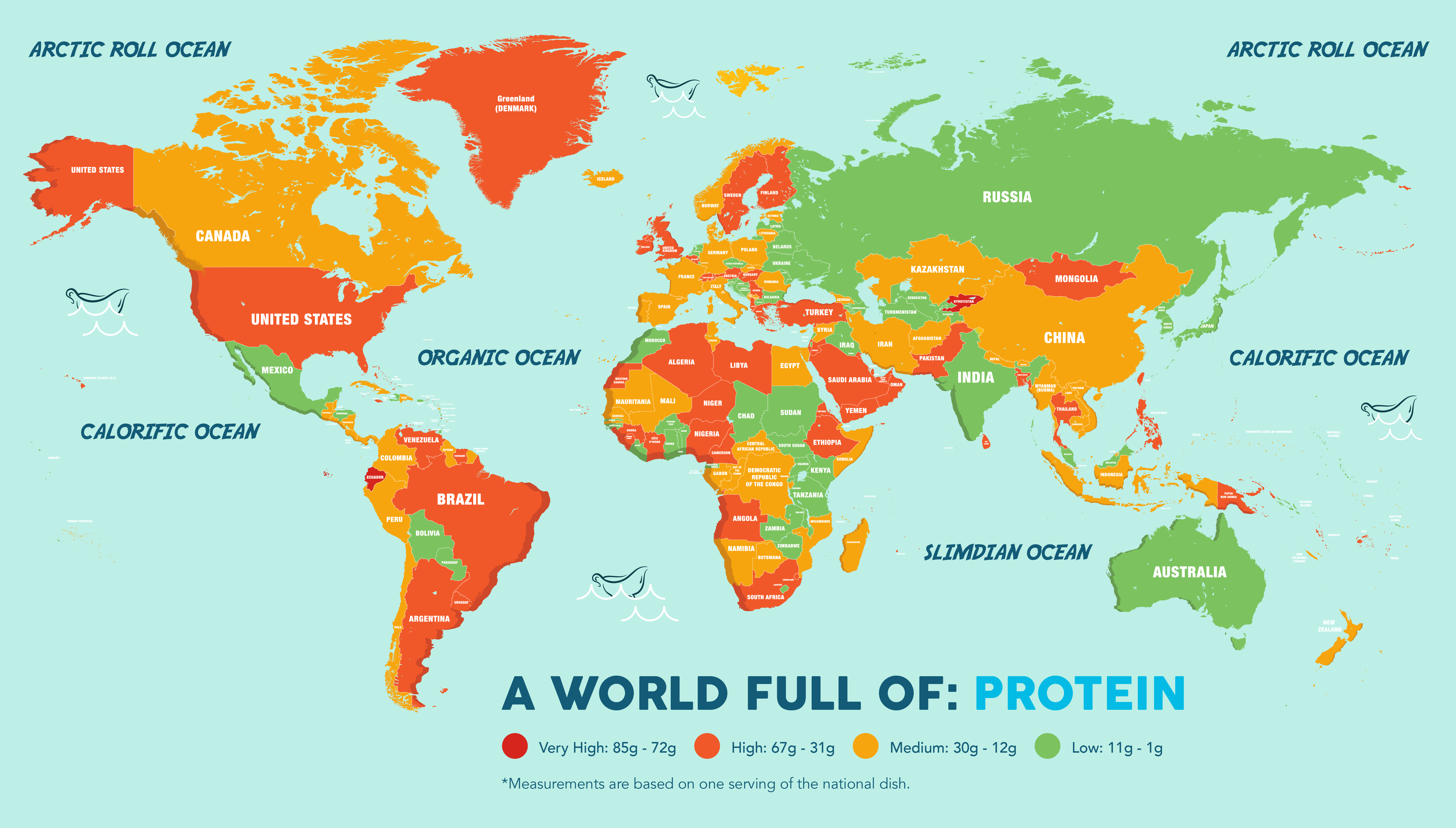 Wondering where the UK stands on the food map? Our national dish is obviously fish and chips, which averages at 688 calories and 26 grams of fat.
The World Food map is shared under Creative Commons license. Please attribute Creative Commons with a link to https://www.shakethatweight.co.uk/world-food-map/. 
For more information on Creative Commons please visit https://creativecommons.org/licenses/by/3.0/.
The Data
| Country | National Dish | Total Calories (Kcal) | Fat (G) | Saturated Fat (G) | Salt (G) | Carbs (G) | Sugars (G) | Protein (G) |
| --- | --- | --- | --- | --- | --- | --- | --- | --- |
| Afghanistan |  Kabuli Pulao (Lamb) | 408 | 14 | 6 | 1.41 | 50 | 9 | 21 |
| Albania |  Tavë kosi | 893 | 55.3 | 24 | 1.08 | 35 | 12.7 | 59 |
| Algeria |  Chakhchoukha | 540 | 14.52 | 4.01 | 1.73 | 64.14 | 2.98 | 36.83 |
| Andorra |  Escudella | 211 | 5.7 | 1.8 | 1.07 | 27 | 2 | 13 |
| Angola |  Muamba de galinha | 467 | 18 | 6 | 4.21 | 14 | 3 | 59 |
| Antigua and Barbuda |  Pepperpot | 251 | 11.2 | 5 | 1.18 | 22.8 | 2 | 15.5 |
| Argentina |  Asado | 279 | 15 | 3.3 | 1.14 | 1.1 | 0.3 | 32 |
| Armenia |  Khash | 329 | 21.3 | 13.6 | 0.96 | 42 | 2.8 | 11.7 |
| Aruba |  Keshi yena | 592 | 40 | 22 | 2.8 | 12 | 8.2 | 45 |
| Australia |  Vegemite on toast | 115 | 4.8 | 2.6 | 0.24 | 15 | 1.7 | 3.3 |
| Austria |  Wiener Schnitzel | 560 | 19 | 5 | 2.59 | 59 | 3.3 | 35 |
| Azerbaijan |  Dolma | 67 | 4 | 1.1 | 0.19 | 4.2 | 0.3 | 3.8 |
| Bahamas |  Crack conch with peas and rice | 165 | 1.5 | 0.5 | 0.62 | 2.2 | 0 | 33 |
| Bahrain |  Machboos | 1130 | 52 | 15 | 0.87 | 106 | 6 | 58 |
| Bangladesh | Machher Jhol | 312 | 13.37 | 1.4 | 0.72 | 17.8 | 7.92 | 33.28 |
| Barbados |  Cou-Cou and Flying Fish | 477 | 20 | 6 | 1.2 | 40 | 19 | 29 |
| Belarus |  Draniki | 268 | 15 | 2.5 | 1.91 | 28 | 1.8 | 6 |
| Belgium |  Moules-frites | 1075 | 70 | 17 | 1 | 66 | 3.2 | 33 |
| Belize |  Fry jack | 167 | 5 | 2 | 0.95 | 26 | 1 | 3 |
| Benin |  Kuli Kuli | 60 | 2 | 0 | 1.79 | 11 | 0 | 6 |
| Bermuda |  Bermuda fish chowder | 291 | 16 | 8.5 | 2.72 | 18 | 6.7 | 20 |
| Bhutan |  Ema datshi | 275 | 18 | 11.3 | 2.12 | 14 | 8 | 14 |
| Bolivia |  Salteñas | 233 | 8 | 1.2 | 0.92 | 29.7 | 5 | 10.7 |
| Bosnia and Herzegovina | Ćevapi | 89 | 5.8 | 2.3 | 0.69 | 0.8 | 0.2 | 8.1 |
| Botswana |  Seswaa | 170.4 | 11 | 0.8 | 0.95 | 0.5 | 0 | 16.1 |
| Brazil |  Feijoada | 691 | 37 | 13 | 1.03 | 39 | 4 | 51 |
| Brunei |  Nasi Lemak | 572 | 32 | 14 | 0.3 | 52 | 7.1 | 21 |
| Bulgaria |  Banitsa | 478 | 36 | 18 | 3.33 | 28 | 3.5 | 11 |
| Burkina Faso |  Riz Gras | 141 | 0.7 | 0.1 | 0 | 28.2 | 0 | 3.4 |
| Burundi |  Boko-Boko (Swahili-Burundian harees) | 547 | 32.7 | 15.9 | 0.4 | 35.6 | 0 | 29.3 |
| Cambodia |  Amok trey | 289 | 21 | 14 | 1.97 | 12 | 5 | 14 |
| Cameroon |  Ndolé | 668 | 47 | 8 | 3.04 | 18 | 1 | 47 |
| Canada |  Poutine | 886 | 57 | 23 | 3.97 | 66 | 1.4 | 28 |
| Cape Verde |  Cachupa | 592 | 26 | 7.7 | 2.3 | 60 | 20 | 33 |
| Central African Republic | Peanut soup | 538 | 35 | 6.8 | 1.99 | 42 | 15 | 20 |
| Chad |  Boule | 233 | 7 | 0.9 | 0.93 | 31.7 | 3 | 5 |
| Chile |  Empanada | 744 | 41 | 11 | 2.71 | 69 | 4.1 | 25 |
| China |  Peking Duck | 663 | 41 | 14 | 2.67 | 42 | 29 | 30 |
| Macau |  Minchee (Picadillo) | 550 | 34 | 11 | 1.37 | 18 | 12 | 43 |
| Colombia |  Sancocho | 220 | 8.2 | 2.7 | 4.34 | 22 | 4.2 | 15 |
| Comoros |  Langouste a la Vanille | 143 | 1.7 | 0.3 | 0.67 | 2.8 | 0 | 23 |
| Costa Rica |  Gallo pinto | 369.5 | 8.1 | 0.6 | 1.8 | 62.7 | 3.6 | 12 |
| Croatia |  Brudet | 392 | 35 | 5 | 1.51 | 9 | 3 | 8 |
| Cuba |  Ropa vieja | 303 | 16 | 4.6 | 1.43 | 8.6 | 4.2 | 28 |
| Cyprus |  Souvla | 510 | 30 | 11 | 2.98 | 36 | 3 | 24 |
| Czech Republic | Svíčková | 584 | 19 | 7 | 0.5 | 91 | 13 | 11 |
| Democratic Republic of the Congo |  Poulet à la Moambé | 769 | 51 | 13 | 1.94 | 13 | 6 | 66 |
| Denmark | Frikadeller | 246 | 16.3 | 5 | 0.44 | 8.4 | 1 | 15.7 |
| Greenland |  Suaasat | 859 | 24 | 6 | 0.91 | 101 | 27 | 57 |
| Djibouti |  Skoudehkaris | 576 | 23 | 11 | 1.24 | 66 | 0 | 26 |
| Dominica |  Fish broth | 39 | 1.5 | 0.3 | 2.37 | 1 | 0.2 | 4.9 |
| Dominican Republic | Sancocho | 220 | 8.2 | 2.7 | 3.38 | 22 | 4.2 | 15 |
| East Timor |  Ikan Pepes | 96 | 1.7 | 0.6 | 1.3 | 0 | 0 | 20 |
| Ecuador |  Fritada | 639 | 27 | 8.6 | 1.71 | 13 | 6.8 | 81 |
| Egypt |  Ful medames | 257 | 7.5 | 1.1 | 2.9 | 35 | 0.2 | 16 |
| El Salvador |  Pupusa | 300 | 16 | 7.6 | 1.37 | 26 | 1.4 | 14 |
| Equatorial Guinea |  Succotash | 221 | 1.5 | 0.3 | 0.77 | 47 | 0 | 9.7 |
| Eritrea |  Zigini with injera | 363 | 19 | 8 | 2.52 | 18 | 15 | 31 |
| Estonia |  Verivorst with Mulgikapsad (sauerkraut stew) | 277 | 13 | 4 | 2.09 | 29 | 3.1 | 13 |
| Ethiopia | Doro wat | 340 | 20 | 8.6 | 1.97 | 10 | 3.9 | 33 |
| Fiji | Kokoda | 554 | 41 | 35 | 2.25 | 22 | 7 | 31 |
| Finland |  Karjalanpaisti | 480 | 13 | 4 | 1.71 | 42 | 5 | 52 |
| France |  Pot-au-feu | 303 | 13 | 4 | 0.86 | 36 | 6 | 12 |
| Gabon |  Poulet Nyembwe | 530 | 10.36 | 3.4 | 1.25 | 34 | 11.3 | 28.7 |
| Gambia |  Benachin | 103.3 | 0.2 | 0.3 | 0.09 | 20.2 | 11.1 | 4 |
| Georgia |  Khachapuri | 462 | 20 | 10 | 1.18 | 47 | 5 | 22 |
| Germany |  Sauerbraten | 295 | 22 | 9.2 | 0.54 | 1.8 | 0.3 | 21 |
| Ghana |  Fufu | 392 | 8 | 4.9 | 0.25 | 81 | 16 | 2.7 |
| Gibraltar |  Profiteroles | 258 | 14.4 | 5.5 | 0.4 | 29.4 | 17.4 | 3.4 |
| Greece |  Gyro | 723 | 39 | 16 | 4.49 | 43 | 6.8 | 47 |
| Grenada |  Oil Down | 470.6 | 22.6 | 18.4 | 2.39 | 67.6 | 13.4 | 4.2 |
| Guatemala |  Fiambre | 223 | 12 | 3 | 0.46 | 10 | 3 | 19 |
| Guinea |  Poulet Yassa | 352.5 | 17.6 | 3.3 | 0.96 | 16.8 | 2.3 | 32 |
| Guinea-Bissau |  Jollof rice | 393 | 15 | 1.2 | 1.15 | 58 | 2.8 | 5.3 |
| Guyana |  Cook-up rice | 294 | 13 | 7.5 | 0.48 | 28 | 2.5 | 16 |
| Haiti |  Diri ak djon djon | 485 | 8 | 1 | 1.48 | 91 | 2 | 12 |
| Honduras |  Baleada | 387 | 24 | 5 | 1.33 | 35 | 1 | 9 |
| Hungary |  Gulyás | 577 | 20 | 8 | 3.51 | 55 | 16 | 50 |
| Iceland |  Hákarl | 324 | 30.3 | 10.1 | 1.03 | 0 | 0 | 13.7 |
| Indonesia |  Soto | 312 | 14.9 | 3.8 | 1.56 | 19.5 | 1 | 23.9 |
| Iran |  Abgoosht | 240 | 5 | 1.7 | 0.57 | 28.2 | 1.8 | 21 |
| Iraq |  Dolma | 511 | 20 | 3 | 2.17 | 77 | 19 | 8 |
| Ireland |  Irish stew | 911 | 54 | 22 | 1.7 | 66 | 9 | 40 |
| Israel |  Meorav Yerushalmi | 530 | 27 | 9 | 4.83 | 12 | 1 | 58 |
| Italy |  Ragu Alla Bolognese | 373 | 27 | 10 | 1.97 | 9 | 6 | 20 |
| Ivory Coast |  Kedjenou | 811 | 53 | 15 | 4.36 | 15 | 7 | 67 |
| Jamaica |  Ackee and Saltfish | 366 | 25 | 2.1 | 6.18 | 4.9 | 1.3 | 32 |
| Japan |  Sushi | 349 | 19 | 2.8 | 1.41 | 38 | 7 | 7.8 |
| Jordan |  Mansaf | 570.4 | 35.7 | 17.7 | 2.58 | 10 | 7.6 | 50.1 |
| Kazakhstan |  Beshbarmak | 307 | 18 | 6 | 1.62 | 13 | 11 | 22 |
| Kenya |  Ugali | 178 | 1.8 | 0.3 | 0.54 | 38 | 0.3 | 4 |
| Kiribati |  Palusami | 223 | 19 | 14 | 1.05 | 2.6 | 0 | 12 |
| Kosovo |  Tavë Kosi | 266 | 21 | 10 | 0.83 | 6 | 3 | 14 |
| Kuwait |  Machboos | 1012 | 45 | 13 | 3.79 | 101 | 6 | 48 |
| Kyrgyzstan |  Laghman | 1425 | 51 | 7 | 0.61 | 170 | 8 | 72 |
| Laos |  Larb | 225 | 13 | 2 | 2.08 | 11 | 5 | 19 |
| Latvia |  Kartupeļu Pankūkas | 210 | 12 | 2 | 0.95 | 22 | 2 | 5 |
| Lebanon |  Tabbouleh | 269 | 18 | 2 | 0.05 | 24 | 4 | 5 |
| Lesotho |  Chakalaka | 222 | 15 | 1 | 0.15 | 23 | 12 | 5 |
| Liberia |  Fufu | 392 | 8 | 4.9 | 0.49 | 81 | 16 | 2.7 |
| Libya |  Bazeen | 1272 | 39 | 11 | 8.56 | 185.42 | 6.33 | 50.5 |
| Liechtenstein |  Käsknöpfle | 304 | 17 | 10 | 0.59 | 25 | 1 | 12 |
| Lithuania |  Cepelinai | 488 | 32 | 18 | 0.7 | 26 | 2 | 23 |
| Luxembourg |  F'rell am rèisleck | 234 | 15 | 8 | 0.59 | 14 | 3 | 3 |
| Macedonia |  Tavče Gravče | 290 | 19 | 1 | 2.19 | 22 | 1 | 7 |
| Madagascar |  Romazava | 259 | 11 | 3 | 2.42 | 12 | 4 | 30 |
| Malawi |  Nshima | 302 | 2.6 | 0.6 | 1.54 | 63.2 | 0.5 | 6.8 |
| Malaysia |  Nasi lemak | 232 | 6 | 5 | 0.72 | 40 | 0 | 4 |
| Maldives |  Garudhiya | 61.3 | 2.1 | 0.5 | 1.97 | 0 | 0 | 10 |
| Mali |  Maafe | 378 | 26 | 6 | 1.61 | 18 | 7 | 21 |
| Malta |  Pastizzi | 209 | 15 | 6.5 | 0.11 | 13 | 0.1 | 4.1 |
| Marshall Islands |  Macadamia nut pie | 257 | 10 | 5 | 0.34 | 42 | 32 | 2 |
| Mauritania |  Thieboudienne | 868 | 24 | 2 | 2.31 | 141 | 7 | 21 |
| Mauritius |  Octopus Curry | 442 | 11 | 2 | 2.15 | 46 | 12 | 32 |
| Mexico |  Mole poblano | 376 | 23 | 5 | 2.96 | 38 | 17 | 10 |
| Moldova |  Mămăligă | 112.7 | 1.1 | 0.2 | 0.77 | 24 | 0.4 | 2.6 |
| Monaco |  Barbajuan | 258 | 16.4 | 4.3 | 1.1 | 20 | 1 | 7.9 |
| Mongolia |  Buuz | 924 | 42 | 18 | 2.5 | 91 | 3 | 41 |
| Montenegro |  Punjene Paprike | 299 | 17.1 | 5.1 | 3.37 | 20.1 | 2.3 | 17.5 |
| Montserrat |  Goat water | 562 | 31 | 10 | 1.22 | 21 | 12 | 50 |
| Morocco |  Tagine | 493 | 19 | 3 | 0.2 | 81 | 30 | 7 |
| Mozambique |  Frango | 337 | 23 | 5 | 1.1 | 8 | 7 | 26 |
| Myanmar |  Mohinga | 459 | 17 | 3 | 4.57 | 48 | 11 | 30 |
| Namibia |  Potjiekos | 308 | 17 | 6 | 0.16 | 26 | 3 | 14 |
| Nauru |  Coconut Crusted Fish | 254 | 16 | 13 | 0.98 | 10 | 3 | 21 |
| Nepal |  Dal bhat | 293 | 4 | 2 | 0.76 | 48 | 2 | 18 |
| Netherlands |  Stamppot | 498 | 22 | 12 | 3.16 | 69 | 13 | 12 |
| New Zealand |  Bacon and egg pie | 505 | 38 | 11 | 1.5 | 24 | 4 | 17 |
| Nicaragua |  Gallo pinto | 466 | 3 | 1 | 0.07 | 87 | 4 | 24 |
| Niger |  Djerma Stew | 651 | 46 | 11 | 1.46 | 9 | 4 | 47 |
| Nigeria |  Egusi soup | 638 | 39 | 11 | 4.16 | 20 | 7.2 | 53 |
| North Korea |  Kimchi | 45 | 0.1 | 0 | 1.04 | 8.5 | 2 | 2.4 |
| Norway |  Fårikål | 215 | 12 | 5 | 0.21 | 15 | 8 | 13 |
| Oman |  Harees | 730 | 25.2 | 8.9 | 0.21 | 97.2 | 1 | 31.4 |
| Pakistan |  Seekh kebab | 487 | 35 | 16 | 1.1 | 15 | 6 | 31 |
| Palau |  Tinola | 286 | 15 | 3.6 | 3.45 | 8.8 | 3.9 | 29 |
| Palestine |  Mujaddara | 326 | 16 | 2.1 | 1.28 | 38 | 3.4 | 10 |
| Panama |  Sancocho de gallina | 347 | 23 | 6 | 0.23 | 14 | 4 | 21 |
| Papua New Guinea |  Mumu | 1106 | 88 | 35 | 3.21 | 46 | 19 | 36 |
| Paraguay |  Sopa paraguaya | 287 | 10 | 3 | 0.95 | 40 | 5 | 10 |
| Peru |  Ceviche | 154 | 6 | 1 | 0.3 | 6 | 3 | 19 |
| Philippines |  Adobo | 392 | 23 | 5 | 6.01 | 9.1 | 1.8 | 37 |
| Poland |  Bigos | 377 | 24 | 8 | 2.81 | 19 | 10 | 24 |
| Portugal |  Bacalhau | 318 | 20 | 7 | 0.65 | 20 | 2 | 15 |
| Qatar |  Machboos | 1012 | 45 | 13 | 3.79 | 101 | 6 | 48 |
| Republic of the Congo |  Poulet Moambé | 890 | 63 | 24 | 1.46 | 34 | 13 | 50 |
| Romania |  Sarmale | 290 | 18 | 6 | 1.46 | 14 | 5 | 20 |
| Russia |  Pelmeni | 253 | 2 | 0 | 0.26 | 49 | 2 | 9 |
| Rwanda |  Matoke | 829 | 55 | 4 | 2.26 | 91 | 43 | 4 |
| Saint Kitts and Nevis |  Saltfish | 202 | 16 | 2 | 0.19 | 7 | 0 | 9 |
| Saint Lucia | Green fig and saltfish | 642 | 11 | 1 | 4.99 | 63 | 33 | 76 |
| Saint Vincent and the Grenadines |  Roasted Breadfruit | 226 | 0.5 | 0.1 | 0.22 | 59.7 | 24.2 | 2.4 |
| Samoa |  Palusami | 223 | 19 | 14 | 0.88 | 2.6 | 0 | 12 |
| San Marino |  Nidi Di Rondine | 182 | 8 | 1 | 6 | 1 | 0 | 25 |
| Sao Tome and Principe |  Calulu | 196 | 11 | 5 | 0.93 | 10 | 4 | 17 |
| Saudi Arabia |  Kabsa | 735 | 41 | 13 | 2.67 | 43 | 5 | 47 |
| Senegal |  Thieboudienne | 868 | 24 | 2 | 2.31 | 141 | 7 | 21 |
| Serbia |  Ćevapčići | 819 | 61 | 24 | 2.05 | 2 | 0 | 62 |
| Seychelles |  Seychelles Fish Curry | 364 | 12 | 2 | 2.54 | 13 | 3 | 51 |
| Sierra Leone |  Cassava Leaf Soup | 382 | 22 | 7 | 0.48 | 11 | 1 | 34 |
| Singapore |  Chilli Crab | 604 | 20 | 3 | 4.81 | 20 | 6 | 85 |
| Slovakia |  Bryndzové halušky | 789 | 37 | 17 | 2.13 | 84 | 3 | 30 |
| Slovenia |  Ajdovi žganci | 355 | 2.5 | 0.38 | 1 | 70.5 | 1 | 11.5 |
| Solomon Islands |  Green Papaya Curry | 107.1 | 7.2 | 0.6 | 2.19 | 11 | 4.5 | 1.2 |
| Somalia |  Somalia Stew | 437 | 15 | 3 | 1.5 | 59 | 0 | 19 |
| South Africa |  Bobotie | 386 | 16 | 6 | 0.97 | 20 | 13 | 43 |
| South Korea |  Kimchi | 45 | 0.1 | 0 | 1.04 | 8.5 | 2 | 2.4 |
| South Sudan |  Ful Medames | 140 | 4 | 1 | 1.38 | 21 | 2 | 8 |
| Spain |  Paella Valenciana | 294 | 13 | 3 | 1.31 | 25 | 1 | 18 |
| Andalusia |  Gazpacho | 243 | 17 | 2.3 | 4.06 | 20 | 13 | 4.1 |
| Asturias |  Fabada asturiana | 516 | 15 | 5 | 2.73 | 61 | 8 | 34 |
| Sri Lanka |  Kottu Roti | 719 | 27 | 13 | 2.34 | 86 | 11 | 36 |
| Sudan |  Ful Medames | 140 | 4 | 1 | 1.38 | 21 | 2 | 8 |
| Suriname |  Roti & Curry | 447 | 16 | 2.8 | 0.08 | 39 | 3.9 | 36 |
| Swaziland (Eswatini) |  Karoo roast ostrich steak | 1175 | 41 | 16 | 0.98 | 3 | 2 | 46 |
| Sweden |  Köttbullar | 773 | 65 | 38 | 2.28 | 9 | 5 | 42 |
| Switzerland |  Cervelat | 571.4 | 46.4 | 17.9 | 5.18 | 7.1 | 3.6 | 32.1 |
| Syria |  Kibbeh | 513 | 32 | 9 | 1.1 | 37 | 2 | 21 |
| Taiwan |  Beef noodle soup | 266 | 7 | 3 | 2.13 | 17 | 2 | 33 |
| Tajikistan |  Dimlama | 76 | 2.03 | 1.16 | 2.29 | 13.93 | 6.72 | 2.25 |
| Tanzania |  Ugali | 178 | 1.8 | 0.3 | 0.54 | 38 | 0.3 | 4 |
| Thailand |  Pad thai | 838 | 45 | 11 | 4.01 | 46 | 18 | 64 |
| Togo |  Fufu | 392 | 8 | 4.9 | 0.5 | 81 | 16 | 2.7 |
| Tonga |  Lu Pulu | 382 | 16 | 5 | 2.78 | 13 | 5 | 44 |
| Trinidad and Tobago |  Callaloo | 98 | 6.7 | 5.4 | 0.91 | 5.4 | 1.9 | 5.9 |
| Tunisia |  Lablabi | 360 | 9 | 1 | 1.54 | 56 | 11 | 17 |
| Turkey |  Döner | 723 | 39 | 16 | 4.59 | 43 | 6.8 | 47 |
| Turkmenistan |  Palaw | 281 | 10 | 1 | 0.09 | 44 | 5 | 4 |
| Tuvalu |  Coconut Crab | 675 | 34 | 24 | 2.41 | 80 | 3 | 16 |
| Uganda |  Matoke | 829 | 55 | 4 | 2.26 | 91 | 43 | 4 |
| Ukraine |  Borscht | 217 | 6.5 | 0.8 | 0.85 | 34 | 8.3 | 7 |
| United Arab Emirates |  Biryani | 617 | 12 | 4 | 2.01 | 83 | 19 | 49 |
| United Kingdom (UK) |  Fish and chips | 688 | 26 | 3 | 3.59 | 71 | 2 | 43 |
| England (UK) | Bangers and mash | 258 | 20 | 7.6 | 1.39 | 3.2 | 1.4 | 14 |
| Northern Ireland (UK) |  Irish stew | 911 | 54 | 22 | 1.7 | 66 | 9 | 40 |
| Isle of Man (UK) |  Skeddan jiarg | 123 | 7 | 1.6 | 0.74 | 0 | 0 | 14 |
| Scotland (UK) |  Haggis | 320 | 26 | 14 | 0.61 | 5.7 | 0.7 | 15 |
| Wales (UK) |  Cawl | 267 | 14 | 7 | 1.21 | 23 | 4 | 14 |
| United States (US) |  Hamburger | 619 | 38 | 15 | 1.81 | 32 | 6 | 36 |
| Northeast (US) |  New England clam chowder | 425 | 28 | 15 | 2.21 | 20 | 5 | 21 |
| Midwest (US) |  Cincinnati chili | 604 | 18 | 5 | 3.39 | 77 | 17 | 38 |
| South (US) |  Macaroni and cheese | 956 | 45 | 24 | 2.26 | 100 | 14 | 37 |
| Texas (US) |  Tex-Mex | 518 | 36 | 13 | 2.84 | 18 | 5 | 29 |
| West (US) |  Sopaipilla | 344 | 2 | 0 | 0.65 | 80 | 48 | 5 |
| Mountain West (US) |  Rocky Mountain oysters | 182 | 7.8 | 1.2 | 0.46 | 14 | 0.1 | 11 |
| West Coast (US) |  Cioppino | 554 | 21 | 4 | 4.02 | 19 | 7 | 62 |
| Hawaii (US) |  Loco Moco | 600 | 44 | 18 | 1.82 | 17 | 3 | 31 |
| Puerto Rico  |  Arroz con gandules | 395 | 14 | 4 | 1.62 | 57 | 4 | 12 |
| United States Virgin Islands (US) | Fish and cou-cou | 459 | 11 | 2 | 1.23 | 52 | 1 | 37 |
| Uruguay |  Chivito | 794 | 43 | 8 | 3.66 | 39 | 3 | 61 |
| Uzbekistan |  Palov | 260 | 17 | 6 | 0.58 | 23 | 4 | 4 |
| Vanuatu |  Lap lap | 825 | 59 | 49 | 2.02 | 47 | 12 | 34 |
| Venezuela |  Pabellón criollo | 511 | 22 | 6 | 2.42 | 43 | 0 | 37 |
| Vietnam |  Phở | 201 | 4 | 2 | 2.6 | 20 | 3 | 21 |
| Yemen |  Kabsa | 735 | 41 | 13 | 2.67 | 43 | 5 | 47 |
| Zambia |  Nshima | 302 | 2.6 | 0.6 | 1.54 | 63.2 | 0.5 | 6.8 |
| Zimbabwe |  Sadza | 340 | 3.4 | 0.5 | 0.08 | 72 | 0.6 | 7.6 |
Sources
For the national dishes:
For the nutritional values:
Major sources:
Other Sources:
https://www.verywellfit.com/
https://www.thespruceeats.com/
https://www.thedailymeal.com/
https://www.myfooddiary.com/
https://www.myalbanianfood.com/
https://www.myfitnesspal.com/
https://www.kroger.com/
https://www.internationalcuisine.com/
https://www.fitbit.com/
https://www.fatsecret.com/
https://www.edamam.com/
https://www.eatthismuch.com/
https://www.africanbites.com/
https://world.openfoodfacts.org/
https://spoonacular.com/
https://sante.journaldesfemmes.com/
https://globalfoodbook.com/
https://ifood.tv/
https://diethood.com/
https://cookeatshare.com/
https://boulderlocavore.com/
http://titlisbusykitchen.com/
http://susplus.eu/
http://cdiabetes.com/
https://www.safefood.eu/