Shake That Weight ™ • 29th April 2015 • 9 years ago
Low-calorie summer cocktails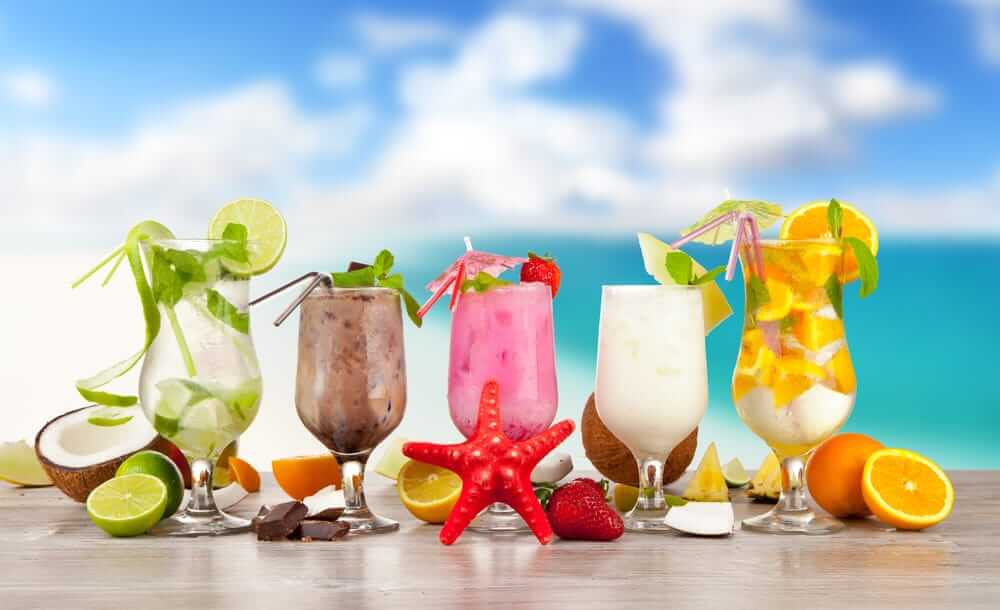 Spring has sprung and what's nicer that reclining back in the garden with a homemade cocktail. If you're watching your calorie intake though, be careful as you might be adding more calories to your diet than you think. Here are some my favourite low-calorie summer cocktails.
Watermelon Fizz
Calories: 100
Ingredients:
1 oz. Tequila
3 oz. Watermelon
0.1 oz. Simple Syrup
0.1 oz. Soda water
5 Cilantro pieces (optional)
Squeeze of lime
1 Bamboo spike (optional)
Directions: Muddle the watermelon with the optional cilantro leaves in a cocktail shaker (or if you want a sweet drink, just stick with the watermelon). Then add ice, simple syrup, and tequila. Shake vigorously and pour all contents into a rocks glass. If you'd like, garnish with a piece of watermelon in a bamboo spike.
Vegan Mudslide
Calories: 80
Ingredients:
1 oz. vodka
2 oz. coffee
3 oz. light almond milk
1 teaspoon vanilla extract
Directions: Combining all ingredients into a cocktail shaker. Shake, then strain over ice into a cocktail glass. Or if you want it to be more like a traditional mudslide, blend in a blender for that milkshake texture.
Skinny Sake Mojito
Calories: 127
Ingredients:
1/2 fresh lime
8 sprigs fresh mint
3 oz. sake
2-3 drops liquid Stevia (or to taste)
Carbonated water
Lime wedge
Directions: Muddle the lime and mint in a cocktail shaker, then add the sake and Stevia. (Taste a small amount to see if it's sweet enough and add more Stevia if desired.) Pour over ice, then top off with club soda.
Pineapple Martini
Calories: 146
Ingredients:
2 oz. Coconut rum
2 oz. Pineapple Juice (fresh or canned)
Twist of orange peel (optional)
Directions: Add rum and pineapple juice to shaker filled with ice, cover and shake vigorously. Strain into a chilled martini glass and garnish with a pineapple wedge or twist of orange peel.
Healthy Margarita or Daiquiri
Calories: 100
Ingredients (makes 4 drinks):
1 cup coconut water
1/4 cup honey
1 packet Stevia
4 shots tequila (for margaritas) or rum (for daiquiris)
Juice from 1 lemon
Juice from 1 lime
6 fresh strawberries
1 cup ice
Directions: Puree all ingredients in a blender until smooth and frothy. Serve in chilled margarita glasses.
Ginfusion
Calories: 80
Ingredients:
Fresh mint
English cucumber
Zest of 1 lemon
6 strawberries
1.75 liters of gin (any brand)
Directions: Wash all ingredients (except the gin, obviously) and tie the mint into a bundle. Put all ingredients into a pitcher, cover, and leave overnight. Then filter the liquid through a coffee filter and rebottle it. Now you can mix it however you like, but try serving it in a martini glass with club soda and a squeeze of fresh lemon. Because of the natural sweetness of the strawberries and the flavor of the mint and cucumbers, you won't need to add sugar or anything else.
Javatini
Calories: 100
Ingredients:
2 parts espresso vodka
1 part Coffee-mate Natural Bliss Low-fat Vanilla
Ice cubes
Directions: Fill cocktail shaker halfway with ice, then add espresso vodka and Coffe-mate. Cover and shake for 10 seconds, then strain into a chilled glass.
Honey Lemonade
Calories: 100 per serving
Ingredients (makes 1 full pitcher):
8 organic lemons
8 oz. tequila
8 teaspoons raw, local honey
Water
Directions: Juice the lemons and add to a 64 oz. pitcher, along with the tequila. Dissolve the honey in warm water, then add to the pitcher. Fill the rest of the pitcher with cold water and stir well. Pour into iced glasses and garnish with a lemon or lime wedge. Honey is a good alternative to sugar because it's anti-microbial, aids digestion, has B-vitamins, and live enzymes.
Gluten-Free Mojito
Calories: 140
Ingredients:
6 to 8 mint leaves
6 lime slices
1 oz. agave nectar
1.5 oz. Blanco Tequila
Directions: Muddle together the mint, lime, and agave nectar, then pour the mixture over ice. Add the tequila, top with soda water, and stir together.
Mint Garden
Calories: 130
Ingredients:
Chopped red bell pepper
Fresh mint leaves
1/2 oz. lemon juice
1/2 oz. simple syrup
3/4 oz. fresh squeezed grapefruit juice
1/2 oz. Triple Sec
1 oz. Gold tequila
Directions: Muddle the bell pepper, mint, lemon juice, simple syrup, and grapefruit juice, then add the triple sec and tequila. Shake and add into a glass with ice.